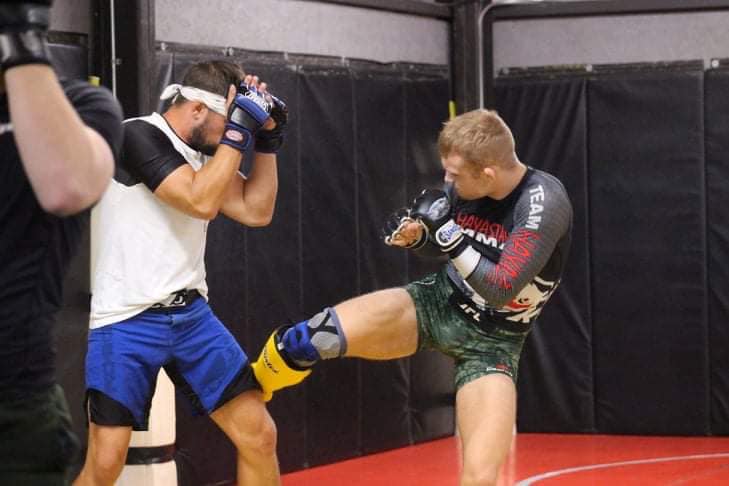 There's only a few days left until "Razor" Robbie Ring will make his way to Knoxville, TN for his 4th professional MMA fight. He will be fighting for Aries Fight Series, on Friday, March 4th, at the world famous Cotton Eyed Joe. His opponent, Dusty Little is also undefeated as a pro and is coming off of a one-minute knockout in his last fight. Little accepted the fight with Ring after his original opponent, Edward Massey pulled out in mid-January.
Ring has had a difficult time with opponents pulling out of fights leading up to fights, which causes a fighter to  have to readjust their training and game plans accordingly to adapt to a different fighter.  Ring is totally confident in his training at Ring-Combat Sports in Wytheville.  He stated "Ring-Combat Sports is where I put in all of my training for all these fights.  I've learned and I'm still learning under my parents who have been teaching me since I was a little kid, along with all the others they have taught throughout the years.  I still learn new things nearly every week and my training has never failed me".
Ring also has a stable of fighters and teammates at Ring-Combat sports that push him and challenge him to be his best leading up to fights. Ring said "My fight camps are tough. We have what we call pro-day on Wednesday and its super challenging. I have some beasts for training partners. Our gym has lots of talented fighters in it and my dad designs pro days that push me to my limits".
Robbie also works part-time at Anytime Fitness in Wytheville which is also where he gets in a lot of his cardio training for his fights.  Ring continued "Between my strength and cardio training, having a bunch of Killers for training partners and the fact that our gym has produced numerous champions, I feel more prepared than I have ever felt going into this fight.  People probably don't realize that they have one of the most active MMA fighting gyms in the Southeastern Region right here in their own back yard.  We have had well over 300 cage fights over the years".
When not training himself you will find Robbie teaching classes at the family gym that he hopes to take over in the coming years.  Robbie said "We start them young at Ring-Combat Sports.  At 4 years old our Tiny Titans start learning our Combat Jiu-Jitsu system, as well as start learning the basics of MMA.  Of course at these younger ages there is a huge focus on student safety, but that does not stop the youngest of kids from getting a leg up on the competition at a very young age. Many of our young students get the chance to compete inside the cage with modified rules that allow only mild contact and no contact at all to the face and head.  The kids love it and if they decide as they get older that they want to pursue MMA competition, they end up way ahead of the game, like I did".
The last time Ring fought in Knoxville he remembers a lot of screaming fans many of them from Wythe County who made their way to Knoxville to support him. Ring stated, "It means the world to me for people to come out to the shows and support me as I try to reach my goals in this sport that I love. This has been my goal since I was a little boy coming up in the gym and it has never changed. I know God has blessed me with a work ethic and the right people around me and by his grace I will keep giving it all I have to try to reach the top in this sport".
Ring said, "I really couldn't do this without all of my great sponsors and I have created a banner (see photo) that includes all of them on it".
Robbie wanted everyone to know that they can still get tickets to his upcoming fight by going to www.robbiering.com or dropping by Ring-Combat Sports, 2190 W. Ridge Rd in Wytheville any evening during the week.